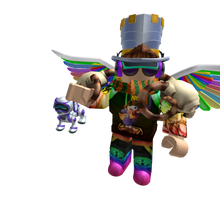 Hi, as you might have guessed already, this is my profile. I'm a quite active member of this wiki and I play fantastic frontier alot. Roblox is also one of the only games I play, and I've bin playing it since I was 9. I like to check the wiki almost daily to see if there are new things or to see if I can help anyone with a question in one of the many comment sections of this wiki. The game itself I play almost daily too. I'm a late game player, so I know quite a bit about the game. Thats about all I have to say... oh wait, one last thing: If you would ever have any questions about me (for some reason) or anything regarding this game, feel free to post stuff on my message wall and I will try to respond ASAP.
Bye! - Lol27games
Pages I like:
Kenneth's Paroxysm Flower Helmet
All 4 itempedia pages
Bird nest
Community content is available under
CC-BY-SA
unless otherwise noted.