Ello there, I'm Agnecu, I play roblox, TF2, Terraria and a whole bunch more that you don't wanna hear because you'll get bored.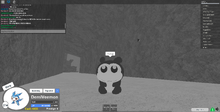 I joined roblox February 2014, Been on it for 4 years now. I'm basically a Fantastic Frontier addict. (i need an object from earth somebody plz) Pokémon and Digimon are basically my 2 things that I enjoy the most (usually). I also got a nintnedo switch (PLZ DON'T MUG ME) with Legend of Zelda: BotW, Splatoon 2 and bla bla bla. I'm some shadow necromancer edge lord in Arcane Adventures (uh, anybody got any information vetex is still updating it after the grand reopening?) And that's all I have to say for now. (oh btw here's my roblox profile link https://web.roblox.com/users/56562072/profile) (ps i'm allergic to dark ghosts mostly because of all the ghost pepper they have on)
My favorite pages
Add links to your favorite pages on the wiki here!
Favorite page #2
Favorite page #3
Community content is available under
CC-BY-SA
unless otherwise noted.