m

Tags: apiedit, Visual edit

m (Revamped page.)

Tags: apiedit, Visual edit

Line 1:
Line 1:
 
+

{{Infobox_Location_v2|title1 = The Far Coast|image1 = The Far Coast.png|caption1 = The pathway at The Far Coast leading to the Coral Giant|location = The Far Coast|landmarks = Coral Giant's Territory|birds = Beachbird, Gull|row6 = Shell, Sandy Coral, Clamstack, Strangeman's Shell|mobs = Coral Giant, Red Mandible, Dark Ghost, Whisperer|npcs = Spirit of the Ocean}}[[File:FantasticFrontierFanMadeMap (1)-0.png|thumb|220x220px|Location of The Far Coast (Click to zoom in)]]

−

[[File:RobloxScreenShot20170725 130401871.png|thumb|220x220px]]

 
 
+

The Far Coast is the coastline that stretches from [[The Rolling Road]] to [[Starry Point]]. The Far Coast is notably known as the coastline that players can head to slaughter the [[Coral Giant]]. The Spirit of the Ocean can also be found here at The Far Coast, however, it's located at the location of where the Coral Giant can be found. The Far Coast also connects with the other coastline known as [[Coral Bay]] and are not meant to be confused as the same coastline. Other than the Coral Giant, Red Mandible are often found in this specific coastline, and during the nighttime, Dark Ghost can appear here.

−

The Far Coast is south of [[Hoodlum Falls]] and [[Petrified Grasslands]]. It's west of [[The Town of Right and Wrong]] and south of [[Topple Town]].

 
 
 
 
⚫
−

The [[Coral Giant]] and [[Spirit of the Ocean]] resides there.

 
 
 
−

The Spirit of the Ocean will permanently increase your maximum health for 1,000,000 gold and is the 2nd most expensive spirit to maximize your health.

 
−

[[File:RobloxScreenShot20170725 121926788.png|left|thumb|237x237px|The Spirit of the Ocean]]

 
−
 
−

[[File:FantasticFrontierFanMadeMap (1)-0.png|thumb|220x220px|Location of The Far Coast (Click to zoom in)]]

 
⚫
 
−

== Monsters ==

 
−

{| class="article-table sortable"

 
−

!Name

 
−

!Image

 
−

|-

 
−

|

 
−

=== [[Coral Giant]] ===

 
−

|[[File:Xkhbst5eQRuFO5InLTJgDQ.png|thumb|280x280px]]

 
−

|-

 
−

|

 
−

=== [[Dark Ghost]] ===

 
−

|[[File:GOTK43mWRx6VuZGYEr2cyA.png|thumb|220x220px]]

 
−

|-

 
−

|

 
−

=== [[Whisperer]] ===

 
−

|[[File:NRJUCvcKQhWzUVkK5Bozww.png|thumb|220x220px]]

 
−

|}

 
 

[[Category:Map Areas]]

 

[[Category:Map Areas]]

 

{{DEFAULTSORT:Far Coast}}

 

{{DEFAULTSORT:Far Coast}}
---
Revision as of 20:52, 17 September 2017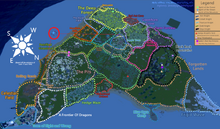 The Far Coast is the coastline that stretches from The Rolling Road to Starry Point. The Far Coast is notably known as the coastline that players can head to slaughter the Coral Giant. The Spirit of the Ocean can also be found here at The Far Coast, however, it's located at the location of where the Coral Giant can be found. The Far Coast also connects with the other coastline known as Coral Bay and are not meant to be confused as the same coastline. Other than the Coral Giant, Red Mandible are often found in this specific coastline, and during the nighttime, Dark Ghost can appear here.
Community content is available under
CC-BY-SA
unless otherwise noted.