Overview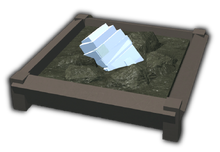 Similar to Gardening, Incubation is one of the many features introduced during the Ratboy's Nightmare Update. It is a small feature that players can participate in, engaging in the raising and incubation process of salamander eggs.
Incubation can also be done in The Nightmare, a realm that players can explore in the Ratboy's Nightmare Update. Plots can be seen in certain rooms after unlocking certain doors. Once unlocked, players can use the provided plots to incubate a salamander egg.
Salamander eggs are collectibles that can be bought from vendors in The Nightmare, such as No-Legs and the Green Golem. These eggs can be placed in respective plots of land containing 4 available plots. There are 20 plots in total, four plots in Topple Hill, in the market (very close to Mr. Sims), four plots in The Town of Right and Wrong, eight plots in Farm Fortress, and four plots in the Abandoned Orchard. To unlock 4 additional plots of the 8 plots in Farm Fortress, the player must complete the Farm Fortress Defense Quest.
Notes
Please keep in mind that while purchasing a salamander egg, the salamander that hatches may not be the exact same color of its egg. There is almost a guaranteed chance for Black and Golden Salamander Eggs to hatch the salamanders of their respective colors, however, other eggs such as the Orange and Purple Salamander Eggs may hatch out a salamander that differs from the egg's color. For instance, Orange Salamander Egg hatching a purple salamander and vice versa.
If (you) would like to know more about the Salamanders, please visit the article --> Salamander.
Fun Fact: The normal Salamander Egg is actually known as the Swamp Salamander during the development of Ratboy's Nightmare Update.
Tiers
What? There are tiers for specific types of salamanders? Yep, there sure is! Here are the tiers:
Tier 1 - The default, or normal version of the Salamander. This refers to the normal Salamander, having a base attack of 50 damage points.
Tier 2 - The standard colors of the Salamander; green, orange, and purple. These have a base attack of 80 damage points and only draws from certain damage-types.
Tier 3 - The 'special colors' of the Salamander; white, black, and golden. These have a base attack of 120 damage points, with the exception of white, which has a base attack of only 100.
Types of Eggs
The following salamander eggs are obtainable, and all salamander eggs available in the shop have varying prices that change between nights and other servers.
Name
Image
Salamander
Description (Egg)
Time
Source(s)
Price(s)
Draws From
Salamander Egg
"A salamander's egg, it will hatch if placed in a warm bed of dirt."
4 hr.
Green Golem




500,000
Orange Salamander Egg
"A salamander's egg, it will hatch if placed in a warm bed of dirt."
8 hr.
Green Golem
2,500,000
Melee/Ranged
Green Salamander Egg
"A salamander's egg, it will hatch if placed in a warm bed of dirt."
8 hr.
Green Golem
2,500,000
Ranged/Magic
Purple Salamander Egg
"A salamander's egg, it will hatch if placed in a warm bed of dirt."
8 hr.
Green Golem
2,500,000
Magic/Melee
White Salamander Egg
"A salamander's egg, it will hatch if placed in a warm bed of dirt."
12 hr.
The Deli's Waits
Unpurchasable
Black Salamander Egg
"A salamander's egg, it will hatch if placed in a warm bed of dirt."
12 hr.
Guttermouth Challenges
Unpurchasable
Golden Salamander Egg
"A salamander's egg, it will hatch if placed in a warm bed of dirt."
12 hr.
Green Golem
10,000,000 (No-Legs)

8,200,000 (Green Golem)