Summary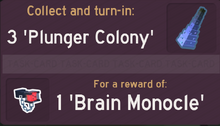 As of the Spring Update, a new island has been discovered near the Frontier, known as the island of Matumada. The Giant Toad is one of the many inhabitants that can be found on the island of Matumada and functions quite similar to Slayer in the Frontier and Gargoyle in the Nightmare. The Giant Toad can be found in a hidden den located underneath the Upper Island portion of Matumada near the coastlines of the island. Players can interact with the Giant Toad in order to complete numerous tasks and objectives that they can do while they are venturing through Matumada.
Notes
For more information regarding what tasks are and how they work, check out Slayer's Tasks.
Giant Toad's Tasks are split into two tiers. Tier 1 tasks are the purple tasks while Tier 2 tasks are the black-purple tasks unlocked after completing 30 tasks in total from either Slayer and/or the Giant Toad.
After obtaining a task, it will take 7 minutes before the player can receive a new task from the Giant Toad.
List of Known Tasks
Tier 1 Tasks
Tier 2 Tasks (30 Tier 1 Tasks)