Summary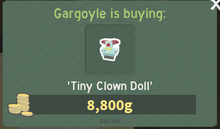 As of the Ratboy's Nightmare Update, a new NPC is introduced, known as the Gargoyle. The Gargoyle can be found in The Mansion in random spots, although it is commonly seen in the room outside of the bookroom's entrance of The Deli. Players can interact with the Gargoyle to strike a deal with the entity, exchanging their loot from The Mansion in exchange for increased gold.
The Gargoyle's deal is consistent throughout the servers, meaning that it will never change until a real-life day has completed, making it different and unique from the Slayer's Tasks.
The Gargoyle's selling prices for items are much better than usual. An example of this is 'Tiny Clown Doll', usually valued 5,000 gold (its normal selling price). The Gargoyle will buy this item for 8,800 gold, which is over 50% better than the regular price. Overall, if the player has an item that is being bought by the Gargoyle, the players should always sell it there for a much better price.
[Fun Fact]: The first deal available to the players since the initial release of the Ratboy's Nightmare Update was the Tiny Clown Doll, in exchange for 8,800 gold.
[Note]: Please contribute to this article if you can.
List of Known Deals
| Gargoyle's Deal(s) | Item Image | Card Image | Original Sell Price | Increased Sell Price |
| --- | --- | --- | --- | --- |
| Ant Meat | | | 1,500 | 3,000 |
| Bad Dust | | | 2,500 | 4,000 |
| Bat Wing | | | 2,300 | 5,000 |
| Clown Nose | | | 1,500 | 3,000 |
| Collection Box | | | 5,000 | 8,000 |
| Crimson Ogre Mushroom Batch | | | 12,000 | 15,000 |
| Crumbling Root | | | 2,100 | 3,600 |
| Dream Mushroom | | | 5,000 | 7,500 |
| Ghost Bat Wing | | | 7,600 | 13,000 |
| Giant's Corn | | | 800 | 1,500 |
| Gold Ogre Mushroom Batch | | | 8,000 | 12,000 |
| Jerk Toothpaste | | | 4,799 | 9,999 |
| Lantern Foreman | | | 3,150 | 5,000 |
| Large Blue Sunflower Top | | | 30,000 | 45,000 |
| Large Red Sunflower Top | | | 15,000 | 22,000 |
| Large Yellow Sunflower Top | | | 2,000 | 9,000 |
| Mandrake Head | | | 20,000 | 30,000 |
| Spiker Core | | | 12,000 | 16,000 |
| Tiny Clown Doll | | | 5,000 | 8,800 |