Summary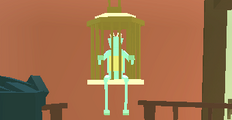 The Frog Quest is a quest that can be initiated in the Frontier. The quest requires the player to find and interact with the Blue Frog who can be found at Topple Town to start the quest.
Questline
Quest Progress
Frog Quest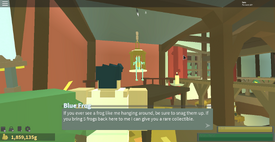 The Blue Frog will task the player with collecting 5 Grateful Frogs. The Grateful Frog is a harvestable that can be found throughout the Frontier. Once the player has collected 5 Grateful Frogs, they can interact with the Blue Frog to be rewarded with one of many rare collectables.
This quest can be repeated.
Known Locations
The known locations of the Grateful Frog can be found in the Grateful Frog's article.
Known Rewards