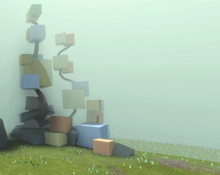 A Frontier of Dragons is an area in the Frontier located next to The Town of Right and Wrong, The Maze Wood, and Celestial Field. Fantastic Dragons are native to this area and can commonly be found peering over the fences and ravines that separate their turf from Celestial Field. The Yellowmen can also be found in A Frontier of Dragons, normally found in the ravines that separate A Frontier of Dragons from other areas. Hungry Flower, Strangeman's Mushroom, Spurtle Mushroom, The Object From Earth, Fife Flower, and Lool Flower are known to spawn in A Frontier of Dragons. A Frontier of Dragons is a very dangerous place for beginner players. This area is not recommended for poorly-equipped players.
Community content is available under
CC-BY-SA
unless otherwise noted.