Overview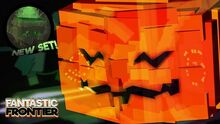 The 1.21 Update, also known as the Halloween Update, was a minor content update released on October 31, 2018. The Halloween Update serves as a minor extension of the Ratboy's Nightmare Update, including a new armor set known as the Guttermouth Set and balance changes. It also included an event NPC known as Jack-o'-lantern, who would hand out a Jack-o'-lantern (head accessory) to players. This head accessory was a limited-time item and will be re-obtainable by players the next time it is Halloween.
1.21 (Halloween) Update
If you're looking for specific topics/subjects added during this update, please refer to the category, 1.21 (Halloween) Update (click the link).
Content/Features
A new armor set, the Guttermouth Set, that can be obtained as a possible reward from Guttermouth Cell Challenges and/or rarely sold by Rising Waters in the Nightmare.
A event NPC known as the Jack-o'-lantern that will hand out a Jack-o'-lantern head to players that interacted with the NPC.
Balance Changes
Forgotten Life Set's endurance stats were nerfed from 18% per piece to 16% per piece.
Frontier Spellbook's base damage was buffed from 130 to 140 damage points.
Red Power Fists' energy cost per swing was buffed from 1.25 to 1.75. According to the developers, it was never intended to be as low as it was.
Romo Set's HP Regen stats were nerfed from +3 HP Regen per piece to +2.8 HP Regen per piece.
Trivia
The 1.21 (Halloween) Update is the first event-related update to be implemented.
The 1.21 (Halloween) Update is also the first minor content update.
Gallery
References
Community content is available under
CC-BY-SA
unless otherwise noted.